Tropical salad with salmon chips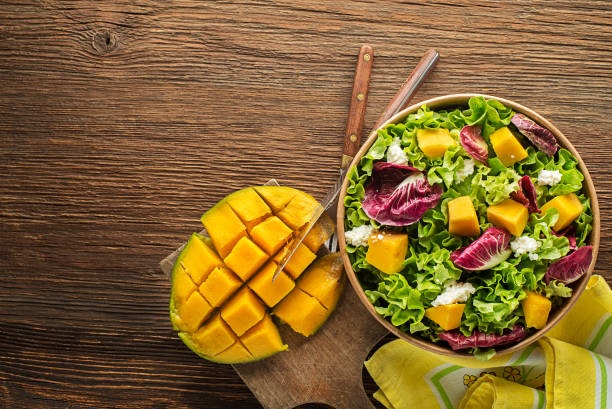 Salads don't have to be bland! They are an important part of our diet as they are a source of fiber and nutrients.
In addition to leaves and vegetables, you can use fruits, oil seeds and even animal proteins. Such is the case with this tropical salad, which in addition to leaves also has mango and salmon!
See how practical and fun it is to make.
TROPICAL SALAD WITH SALMON CHIPS
INGREDIENTS
– 100 g iceberg lettuce
– 100 g chicory
– 100 g red lettuce
– 100 g diced mangoes
– 100 g of salmon
– 1 tablespoon of mint
– 1 yogurt
– 1 variety of sprouts
WAY OF DOING
– Cut the salmon fillet into thin slices, brown in a pan and set aside.
– Tear the leaves with your hands and keep them in a salad bowl. Arrange the mango cubes on top of them.
– Make a sauce by mixing the yogurt with the mint. Put this sauce over the leaves in the salad bowl.
– Place the salmon slices at the end and decorate the middle of the salad bowl with different sprouts.
Enjoy your food!
Isolda Vasconcelos, nutritionist*.
Do you have questions about this or other topics? Send an email to nutricao@corp.bibliomed.com.br, with your name, and stay tuned for our posts, because the answer will be there.
*Isolda Vasconcelos is a nutritionist, postgraduate in Herbal Medicine and in Obesity and Weight Loss at Albert Einstein Hospital.
Copyright © 2022 Bibliomed, Inc.
Make your comment
Commentary