Upon use greens and vegetables on the menu, the family significantly increases the variety of the diet – especially that of the child. "This contributes to her being a better maintenance of your bodythe prevention of chronic diseases related to food", explains nutritionist Maria Claudia Maieiro, from the Inspira Rede de Educadores group. reconsider the mealsparents help their child to have balance, to have good habits, to improve their quality of life and to nourish themselves in the most natural way possible, with vitamins necessary for the body.
A good idea is add all the food groups into a big salad, vary the colors, textures and always eat with the little ones! We have selected 6 delicious and complete recipes for the family lunch or dinner. Let's do it shall we?
1. Greek salad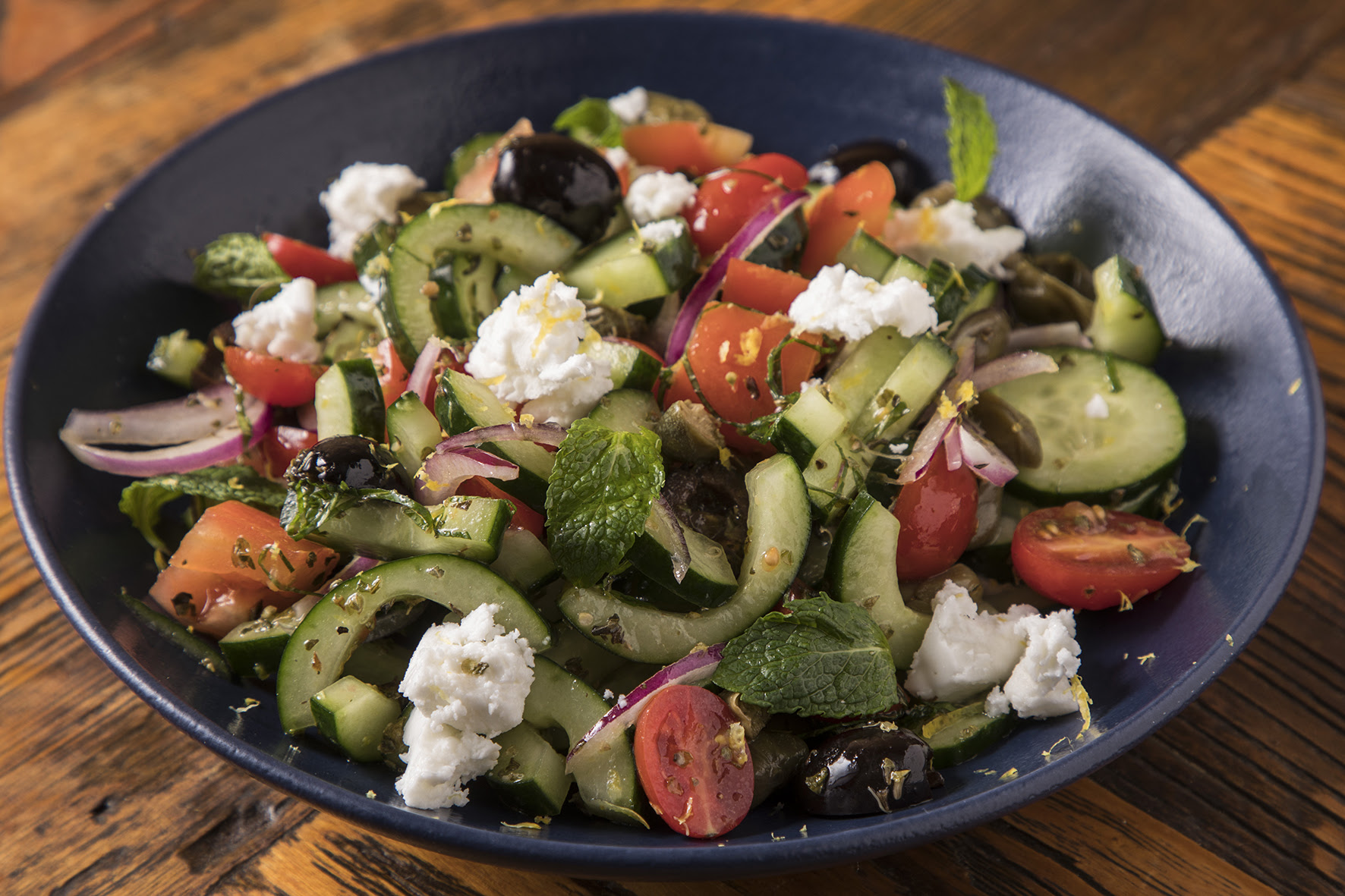 Ingredients
1 Japanese cucumber
1 Italian tomato
5 cherry tomatoes
1/2 red onion
1 tablespoon black olives
1 tablespoon capers
3 mint leaves
A pinch of oregano
1 tablespoon olive oil
1 tablespoon lemon juice
1 slice of feta cheese
salt to taste
Black pepper to taste
Method of preparation
Start by chopping the vegetables: cut the cucumber in half and then into slices (to make a crescent shape); cut the tomatoes into large cubes; cut the onion in half and then into strips; cut the olives (without the pit) in half; cut the cherry tomatoes in half. Finally, chop the mint.
Mix the ingredients in a bowl and crumble the feta cheese on top. Season with salt, pepper, olive oil and lemon. Serve on a plate and finish with Sicilian lemon zest and oregano.
*Recipe provided by chef Lucas Bassoleil, of Avec Gastronomie (@avecgastronomy)
2. Macaroni, chicken and citrus mayonnaise salad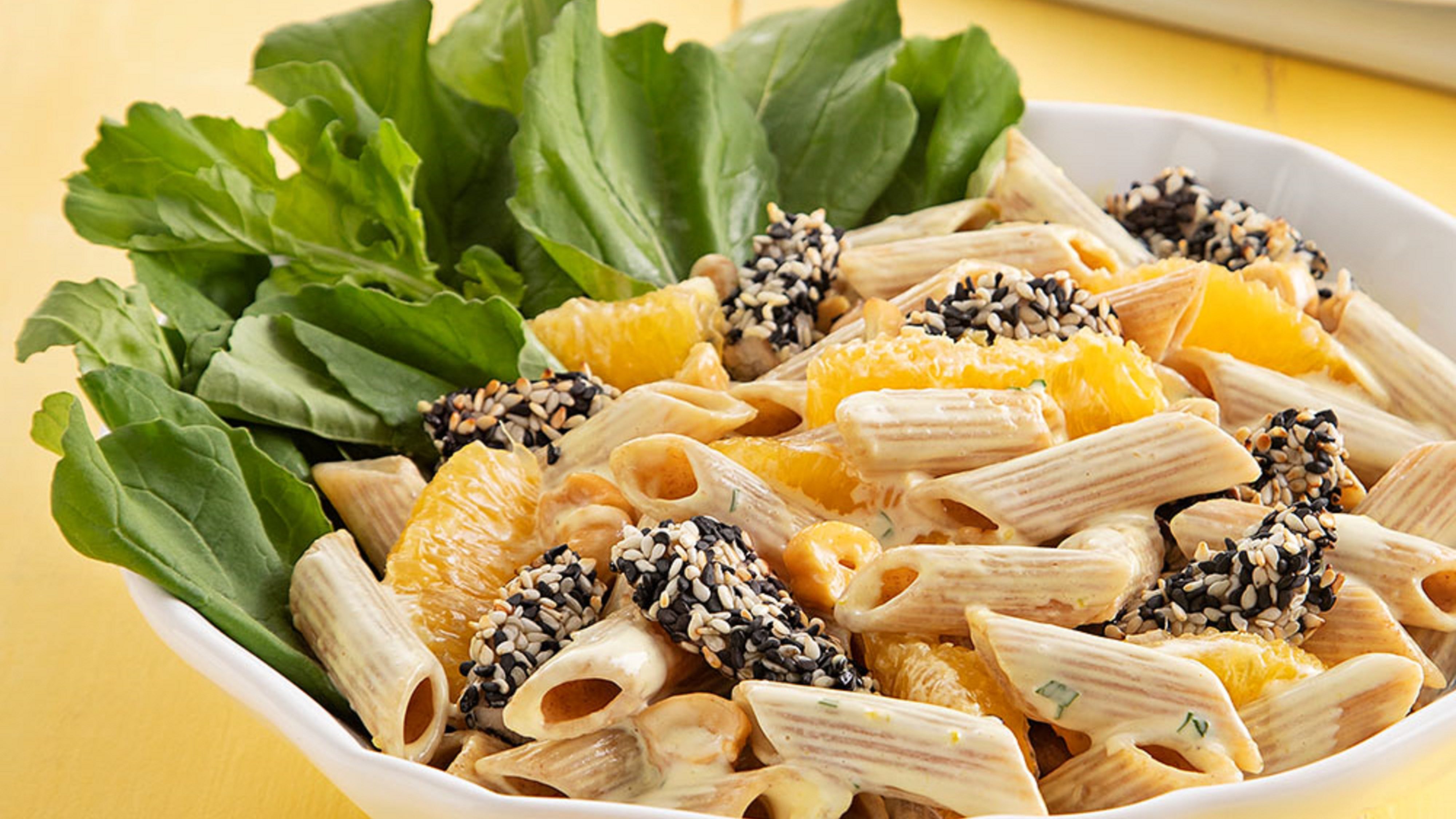 Ingredients
For the salad:
500g wholemeal penne pasta
For the mayonnaise:
2 sifted eggs
2 sifted egg yolks
2 tablespoons of Sicilian lemon juice
4 tablespoons of yellow mustard
6 tablespoons of orange juice
6 tablespoons of olive oil
200 ml vegetable oil
salt to taste
Freshly chopped parsley to taste
peel of 1 orange
For the chicken:
600g chicken breast cut into strips
Salt and black pepper to taste
1 cup mixed sesame seeds
olive oil for greasing
For assembly:
1 cup cashews (coarsely chopped)
Leaves from 1 bunch washed and dried arugula
1 orange cut into segments
Method of preparation
Cook the pasta according to package directions. Drain and cool. Meanwhile, prepare the mayonnaise: place the eggs, egg yolks, lemon juice, mustard, orange juice and oil in the blender. Start whisking and add the oil in a stream until it reaches a creamy mayonnaise consistency. Adjust salt, add chopped parsley and orange zest.
Mix the mayonnaise with the cooked penne. Reserve covered and refrigerated. Preheat the oven to 200ºC and grease a large baking tray with oil. Season the chicken with salt and pepper to taste. Bread it in the sesame mixture, press it well on all sides and place it on the baking sheet. Bake for about 30 minutes, turning halfway through. When ready to serve, stir in the chestnuts, arugula leaves and orange segments. Finish with the breaded chicken strips.
*Recipe provided by Adria brand
3. Niçoise salad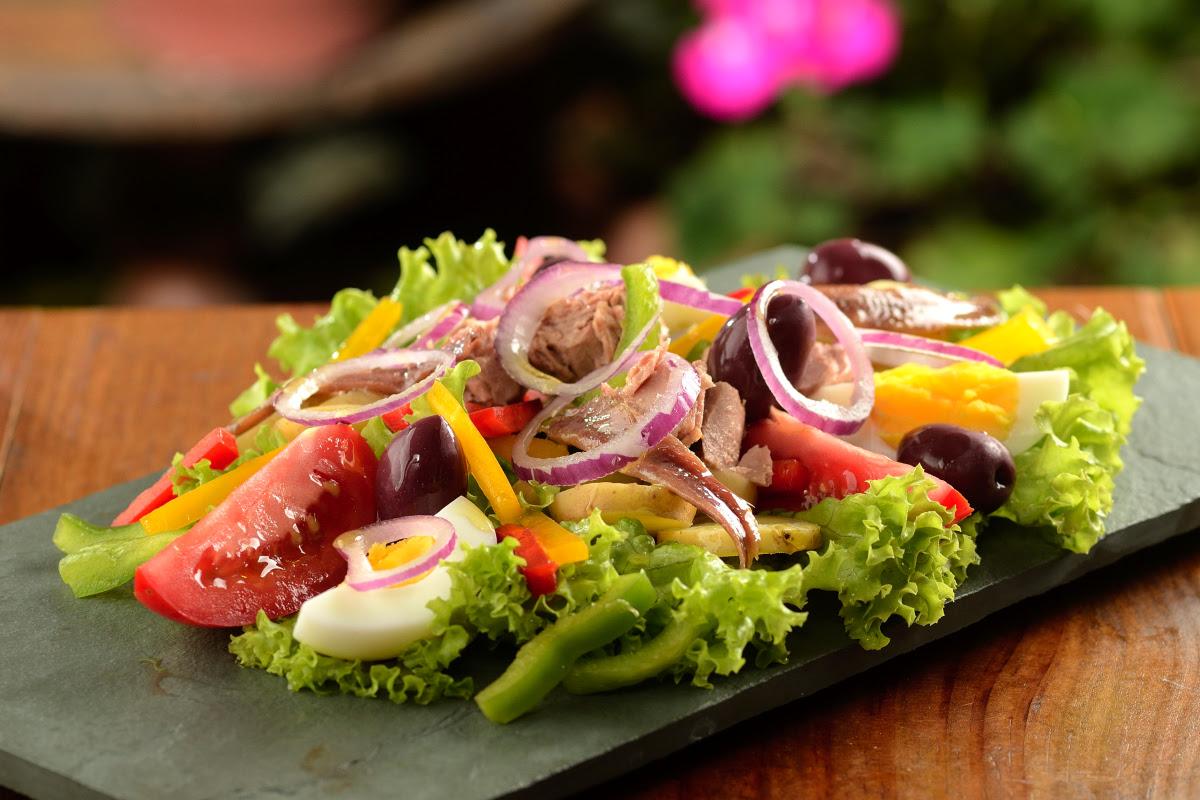 Ingredients
For the salad:

12 baby smooth lettuce leaves
4 slices unpeeled boiled potatoes
3 tomatoes without skin
9 cooked Dutch string beans
3 tablespoons thinly sliced ​​green, red and yellow peppers
3 black olives
6 red onion rings
8 pieces of aliche
2 tablespoons of solid tuna
2g fleur de sel
For the egg mollette:
1 egg
2 tablespoons of white wine vinegar
A little salt
Ice
For the vinaigrette:
2 tablespoons of white wine vinegar
6 tablespoons of olive oil
Salt and white pepper (ground) to taste
Method of preparation
For the egg mollette:
Take a small pot and fill it with water. Season with two tablespoons of vinegar and two pinches of salt. When it boils, add the egg and cook for about 6 minutes. Then remove it from the pan and place it in a container of water and ice to cool. Peel and book.
For the vinaigrette:
Place two tablespoons of vinegar in a bowl and season with salt and pepper. Add the olive oil little by little and mix with the help of a whisk. Mix until emulsified (you'll know it's ready when the mixture is smooth). Reserve.
To assemble the salad:
Arrange the smooth baby lettuce leaves in a deep dish – forming a kind of bed. Place the potato and tomato slices in a row, one on each side of the plate. Add the olives next to each piece of tomato. Then cut the tuna with a fork and drizzle with olive oil. Put it on the plate.
Place the mollet egg next to the tuna and place it next to it. In the middle of the plate, have the cooked pod and the peppers. Finally, finely place the onion rings and finish with fleur de sel. Water with the vinaigrette sauce and serve!
*Recipe provided by Chef Alain Poletto (@alainpoletto)from Bistrot de Paris (@bistrot_de_paris)
4. Grape chicken salad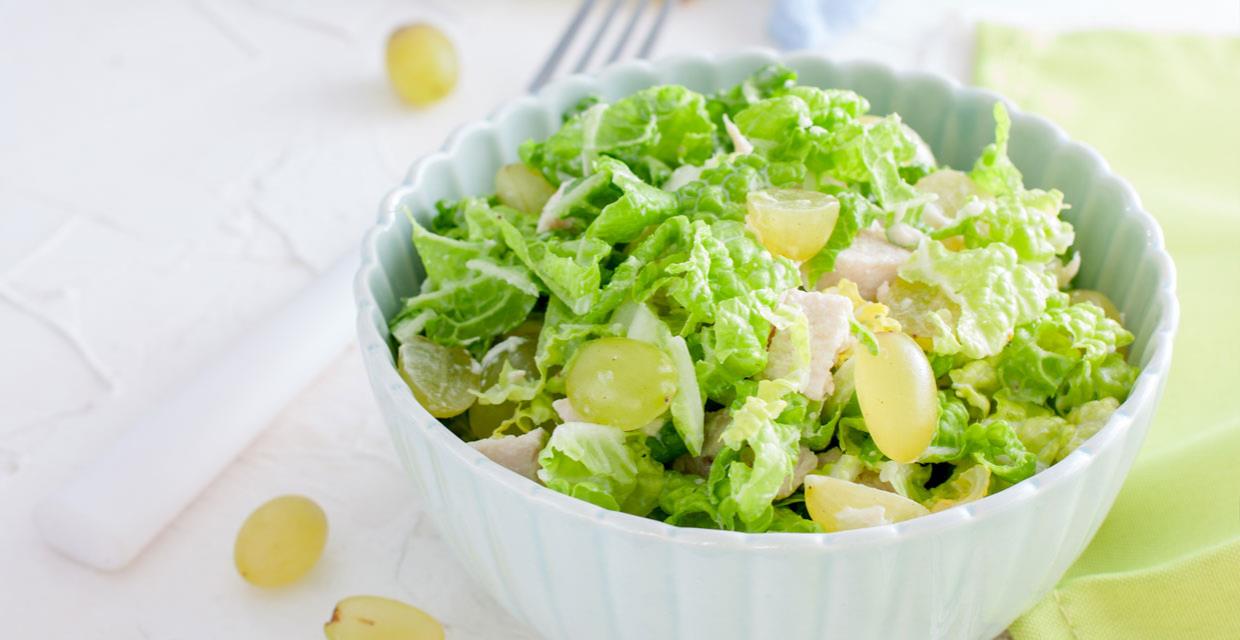 Ingredients
3 cups chicken (cooked)
1 cup green grapes (seeded and halved)
1 cup mayonnaise (tea)
1/2 teaspoon grated lemon zest
Green leaves to taste
Method of preparation
Mix the chicken and grapes in a bowl. Add mayonnaise and grated lemon peel. Then carry out a plate with the green leaves. Add the chicken mixture in the middle and serve!
*Recipe provided by the brand mimo grapesby Agrivale
5. Chicken salad with Moroccan couscous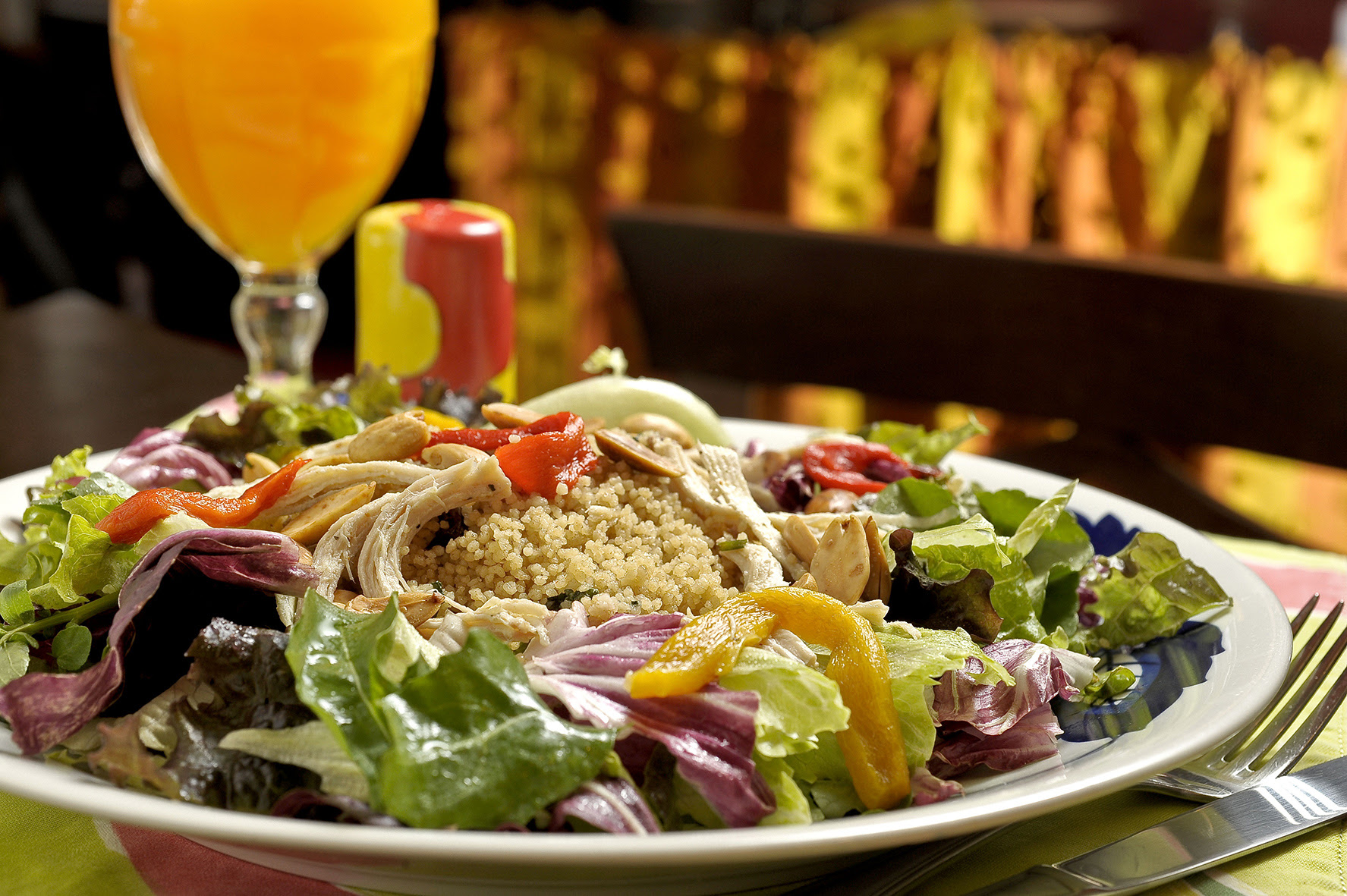 Ingredients
500ml vegetable broth or water
2 tablespoons of white raisins
2 tablespoons of black raisins
4 tablespoons of olive oil
500g Moroccan couscous
200g cooked and shredded chicken breast
2 tablespoons chopped coriander
150g roasted almonds without skin
Mixture of green leaves (lettuce, watercress, arugula, among others)
1 lemon juice
A pinch of cinnamon powder
salt to taste
Method of preparation
Boil the sauce (or water) in a pan with the raisins, cinnamon and olive oil. Remove from heat and add couscous. Stir and cover for 5 minutes. Immediately loosen the couscous with a fork (to prevent it from turning into a single cube). Add the chicken, lime juice, coriander and salt. Spread the mixture on a dish, sprinkle the toasted almonds on top and decorate with green leaves around.
*Recipe provided by Chef Maddalena Stasi, of Mercearia do Conde (@merceariadoconde)
6. Warm lentil salad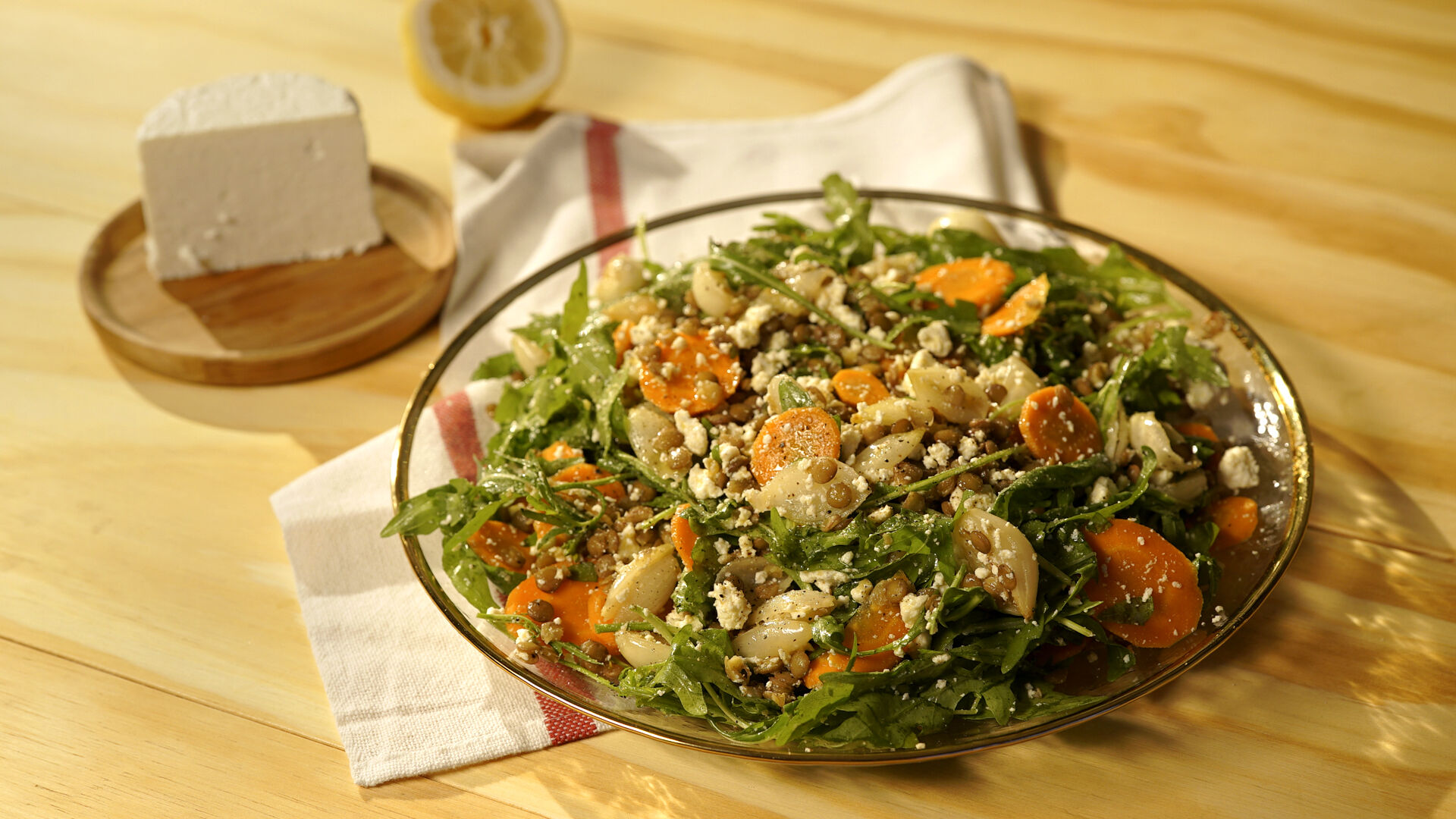 Ingredients
1 cup (tea) lentils
3 cups of water (tea)
1 bay leaf
1 carrot
250g mini onions
salt to taste
Black pepper to taste
2 tablespoons of margarine
200g fresh ricotta
1 bunch of wild arugula
Juice of 1 Sicilian lemon
Method of preparation
Bring the lentils, water and bay leaf to the boil in a pan for about 30 minutes. Drain with a sieve and set aside. Cut the carrot into diagonal slices, the mini onions in half and set aside. Place a tablespoon of margarine in a hot pan and sauté the carrots until golden brown. Season with salt, pepper and book. Add another tablespoon of margarine to the same frying pan and saute the onions until golden brown. Season with salt, pepper and book. Mix all the ingredients in a bowl and serve!
*Recipe provided by the brand Made to taste